Pay transparency is no longer coming soon. It's here.
It's time to take action to make transparency work in your organization.
---
As more states adopt various rules for pay transparency and pay equity, more employers are thrust into confronting how to manage compensation in a more transparent world. National employers must address the complexity of slightly different standards, and global employers face the even more daunting task of tracking variations in regulation around the world.
No matter who you are, it's time to accept that greater pay transparency is here. As a result, it's time to move from reacting to taking proactive actions to make transparency work in your organization. Ultimately, this will incerase trust which creates a more magnetic employee experience.
Pay Transparency Doesn't Mean Everyone Knows What Everyone is Paid
To be clear, the regulatory changes in pay transparency are not focused on full transparency. Certainly within the United States, it is not expected in private employers that everyone knows what everyone is paid. Rather, the focus is being more transparent about pay opportunity in the form of range transparency.
As organizations consider how to comply with various regulation and take a new stand on pay transparency, the decision is commonly rooted in one of the four archetypes shown below.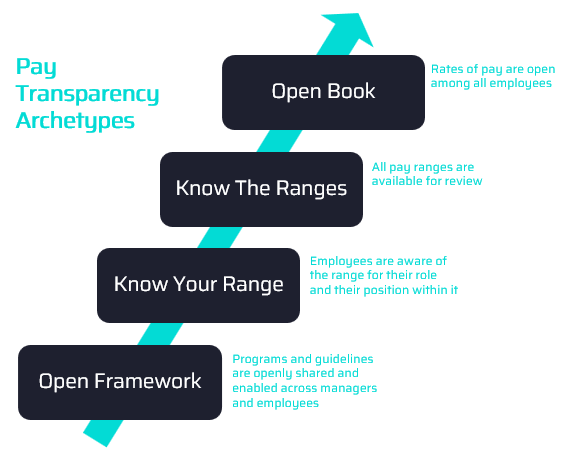 Prior to recent regulatory changes, the majority of organizations used some form of the "Open Framework" or "Know Your Range" model. They would share how programs work, train managers to have better conversations about salay changes and bonuses, and in some cases might communicate where a salary falls within a range. In California, employers are required to share a range (upon employee request), and pay ranges are required in open job postings in many states, so more employers are moving up spectrum to be more open about ranges.
Not many employers are going all the way to an Open Book.
It's not clear that workers are looking for that level of transparency, either. While some research suggests that younger workers are more open about pay, it is generally in the form of sharing your pay voluntarily to someone you choose to share it with - that's different than your employer posting it in the open.
That said, it's a prudent step to continue to assume that everyone may know what everyone is paid. Presuming workers keep their own pay private can provide a false sense of security when it is clear that many workers are happy to create transparency among their peers.
As a result, now is the time to be prepared to explain compensation more completely than ever before.
Your Compensation Philosophy: The Why Behind Your What
Having a clear compensation philosophy creates a north star toward which your program designs can be directed, and offers an opportunity to share what your organization believes about compensation.
Unfortunately, too many organizations have an overly generic compensation philosophy. Ask ChatGPT to create a compensation philosophy, and you get what many organizations probably have. If you're curious if that's true, you can get ChatGPT's example here.
We believe that a compensation philosophy adds value when it helps an organization make the inevitable trade-offs required when managing employee rewards. It is not a set of rules. It is not just "pay competitively to attract and retain talent."
Rather, it is a set of priorities and trade-offs, with an understood and articulated set of accepted consequences for how pay will be managed. With some additional customization based on the talent priorities of an organization, we find that effective compensation philosophies articulate a view of the following.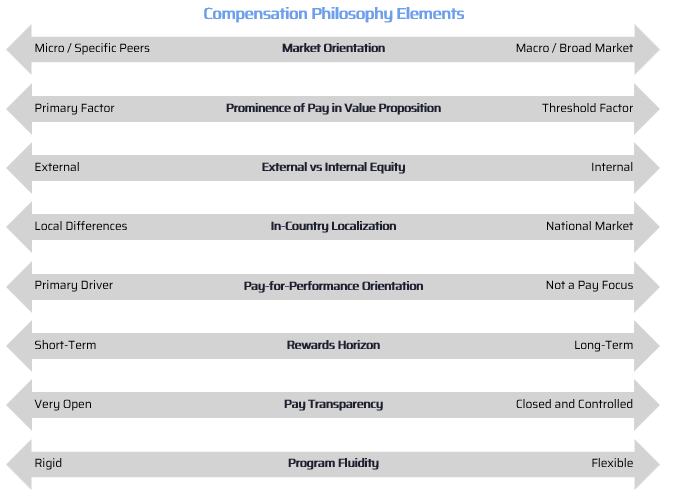 A clear, articulated compensation philosophy is necessary - but not sufficient.
Here's why:
Most employees simply don't care - and don't need to care - about why you pay the way you do. They care why they get paid what they get paid.
The compensation philosophy sets the stage for their personal pay decision, but ultimately the compensation philosophy manifests itself in the form of pay programs and guidelines. As such, making transparency work requires an inspection of those programs and guidelines, perhaps most notably the structure of compensation ranges.
Pay Ranges in the Spotlight
According to one survey, more than 90% of large organizations have a defined salary structure. According to another survey, less than 10% of organizations adopt a new salary structure approach in a given year. This means the vast majority of companies are using pay structures that were created before they were required to be published in some form.
In a recent conversation with a compensation leader, we heard this:
Pay transparency caught us a bit flat-footed. When we built our structure, it wasn't built with public consumption in mind. Things we used to see as features are now looking a bit more like bugs, since the user has changed from an HR and senior business leader to every employee and every candidate.
Now is an ideal time to assess the effectiveness of your compensation structures and specifically gather feedback about how they are perceived in the spotlight. Is it clear how to explain the range across geographic markets? Are there unwritten rules about the position of new hires that challenge what you are sharing in a job posting?
Among a sample of organizations changing their approach to salary structures, we see a few emerging practices:
Narrower ranges. Wide ranges and "broad band" models put a lot of pressure on moving employees and candidates away from the top of the range, when the top of the range was never intended to be a common outcome.
Formalizing "new hire zones." This creates a subset within the broader salary range, which help manage internal equity and can create a better candidate experience.
Separating high and low cost labor markets. Shifting from location-agnostic ranges, where the organization would simply "pay higher in the range in higher cost of labor markets." Creating location-based versions of ranges, or creating separate location-based salary supplements, enables local-market competitiveness with additive transparency to employees and candidates.
Fair Pay Requires More than Range Transparency
Pay transparency regulation is rooted as a strategy towards the greater purpose of fair and equitable pay. Transparency is part of the journey, not the destination.
Embracing pay transparency can be a catalyst for engaging your organization differently around Fair Pay more generally. We view Fair Pay as having three elements: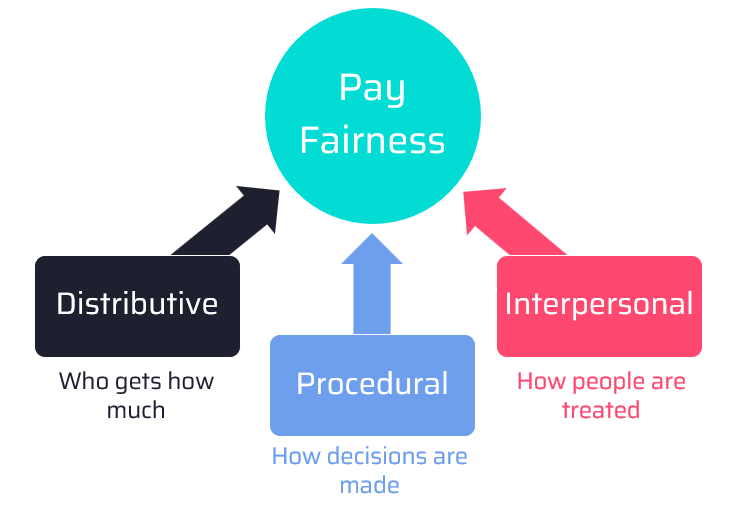 To advance the Fair Pay conversation in this new era of transparency, organizations should pursue each of these elements through the following initiatives:
Evaluate compensation policies around promotions, compensation cycle guidelines, and ad-hoc adjustments. Assume they would be transparent, and revise them if not publicly defensable. Being more open about these guidelines supports Distributive and Procedural fairness, and helps Managers have more productive conversations around pay with their employees.
Conduct a pay equity audit. You want to know what issues may exist before your employees discover them for you. In addition to evaluating pay equity differences with a DEI lens, also evaluate pay compression and tenure-based pay equity so you understand what employees will find as they see more data about the pay strategy.
Equip your manages to have better conversations. If an employee has a pay concern, it will likely be raised to the manager. Managers don't think about compensation communication every day - nor should they - so ongoing enablement about compensation programs and principles will help them handle crucial conversations. It's also helpful to think about what messaging is best shared centrally to ensure consistency, particularly difficult messages (e.g., a lower raise pool than normal). Handling difficult messages more centrally allows managers to be more empathetic, which improves feelings of Interpersonal fairness.
Compensation Professionals: Your Time is Now
Embracing pay transparency is an opportunity for Compensation professionals to lead their organization into healthier employment relationships - if done right. Rather than waiting for questions, or finding ways to obscure what is expected to be clear, now is the time for Compensation teams to proactively equip their organizations to handle new levels of pay transparency.
---
Need Help?
Contact us today if your organization needs expert support on your journey to more pay transparency. We work with clients to clarify and align their compensation philosophy, review and enhance their job architectures and compensation structures, analyze the impact of changes in terms of pay equity and investment needed, and equip managers to have better pay conversations. See all of our Compensation services here.