Provide proactive insights and drive the pay agenda with your internal customers
***
Working with dozens of compensation leaders, certain themes emerge. Perhaps the most common point of feedback we hear about compensation functions – and often directed at the compensation leader her/himself – is that their work is too reactive.
"The team is very productive and busy – but I feel like we need to always ask for help rather than getting the help we need."
"They are great at delivering to request, but I don't know the last time they brought something to the table to me."
"I don't need to hear from Compensation all the time, but if they see something I should know about I'd like that to be served up quickly."
Some of this feedback can be unfair, as much of Compensation's work is indeed a response to a change in the business. As new roles are created, Compensation engages to ensure the role is rewarded competitively. When there is a structural change, Compensation may be engaged to advise on the pay-related matters. Compensation can't really bring value to the table in these circumstances until the table exists, so being reactive is normal and expected.
However, there are ongoing insights that Compensation can proactively bring to the leadership discussion. In many cases, simply creating a space for ongoing dialogue in itself makes the "reactive" feedback disappear. Compensation now owns the agenda and can provide new value before it is requested.
If you don't have a Compensation Business Review process in your organization, it's time to create one.
Implementing a Compensation Business Review (CBR) creates a vehicle to deliver proactive insights so that the Compensation team owns the pay agenda.
What is a CBR?
A CBR is template-driven, regularly scheduled discussion with leaders about the state of compensation in their business area. Just like a Sales or Business Unit "Quarterly Business Review," the CBR reviews the key metrics applicable to the business area, identifies the issues requiring a change of strategy, and creates a rhythm to continually advance the business conversation.
Why do I need a CBR?
The CBR creates an opportunity for Compensation leaders to address the following, which often address specific points of feedback heard about Compensation teams:
Create Transparency: Ensure your customer knows you are willing to share the data and be open about the facts. You have nothing to hide, and are willing to engage around the data
Demonstrate Command of the Facts: Build confidence that you are on top of the data and current situation. Many internal customers have less appreciation for the work you do behind the scenes to ensure competitiveness, and this is a chance to demonstrate that diligence.
Identify Emerging Issues: Based on both the insights you have and the underlying challenges business leaders feel, the CBR creates a dialogue about what might need to change in the future. This creates a seat at the table for you to know what might come up, rather than needing to react to the matter later
Alignment on Priority: Share your roadmap, and ensure alignment on where you and your team are focused.
Your objective in the CBR is not to convince or close on specific proposal. Topical presentations or initiatives can be summarized in the CBR, but any decision making should occur separately. This is important, as the rhythm and objective of the CBR needs to stay strategically-oriented rather than on tactical decision-making.
Who is at the table?
Because a key objective is to gather feedback and align on priorities, the right parties must be present to provide that feedback and weigh in on the key issues. While the specific roles may vary from company-to-company, here is a list of common participants and why they are included.
Compensation Partner: You are the author and driver of the meeting. This may be the top Compensation leader and/or a member of the Compensation team aligned to a specific business unit
People Business Partner: The People/HRBP brings valuable context around the broader talent strategy, and can serve as an ongoing distribution mechanism for key insights surfaced in the discussion
Finance Partner: Budget and planning is often a key driver of any change initiative that might surface. Having your Finance partner in the same discussion helps build alignment. They can also be a key ally in prioritizing investment
Business/Functional Leader: This is your primary audience, as your ultimate internal customer. They will share insight into how the Compensation strategy is serving the needs of their business area.
What should be on the agenda?
To an extent, the agenda is driven by the objective outlined earlier. While the specific metrics and format may vary from company to company, we generally recommend that the agenda address the following themes.
Summary of Competitiveness
Most business leaders would describe this as the primary objective of the compensation function, so it should be front and center in the discussion. Identify where you believe the organization stands in the market, with summary metrics than be easily compared to prior CBRs.
While there are an infinite set of metrics and charts to share the competitiveness story, here are some key metrics and exhibits to consider:
Aggregate Position in Range (PIR) or Comparatio (CR)
Calculating the aggregate market position is a simple summary statistic that is easy to track over time. A single number can easily be plotted over time to illustrate how competitiveness has evolved with changes in the workforce and as other investments are made.
In addition to showing an aggregate value, we also like to show the comparison in dollar terms. It can also be helpful to illustrate the required investment in order for all low outliers to reach a desired minimum point.
Exhibit: Illustrating Workforce Cost and Gap to Market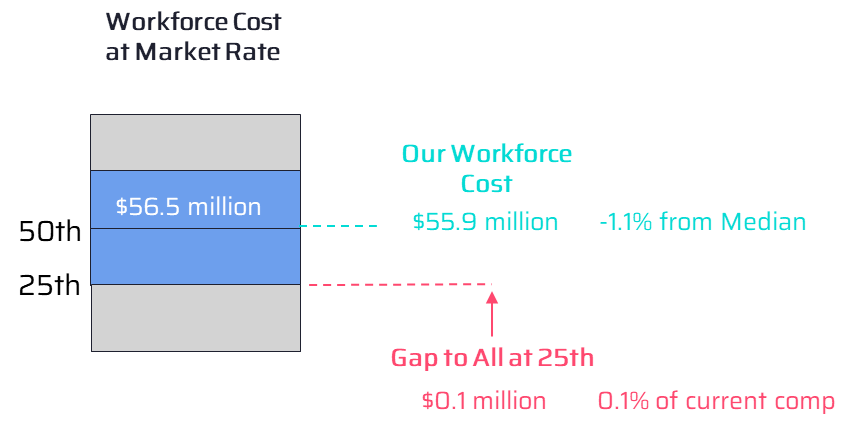 Distribution of Workers Relative to Market
Aggregate market competitiveness can hide the underlying shape of the market and the variance in your population, and skeptical leaders often prefer to see compensation relative to direct market data rather than a given salary range. Using a snapshot like the below can demonstrate the overlap between the market distribution, your targeted pay range, and your internal compensation distribution.
Exhibit: Illustrating the Distribution of Market and Company Salary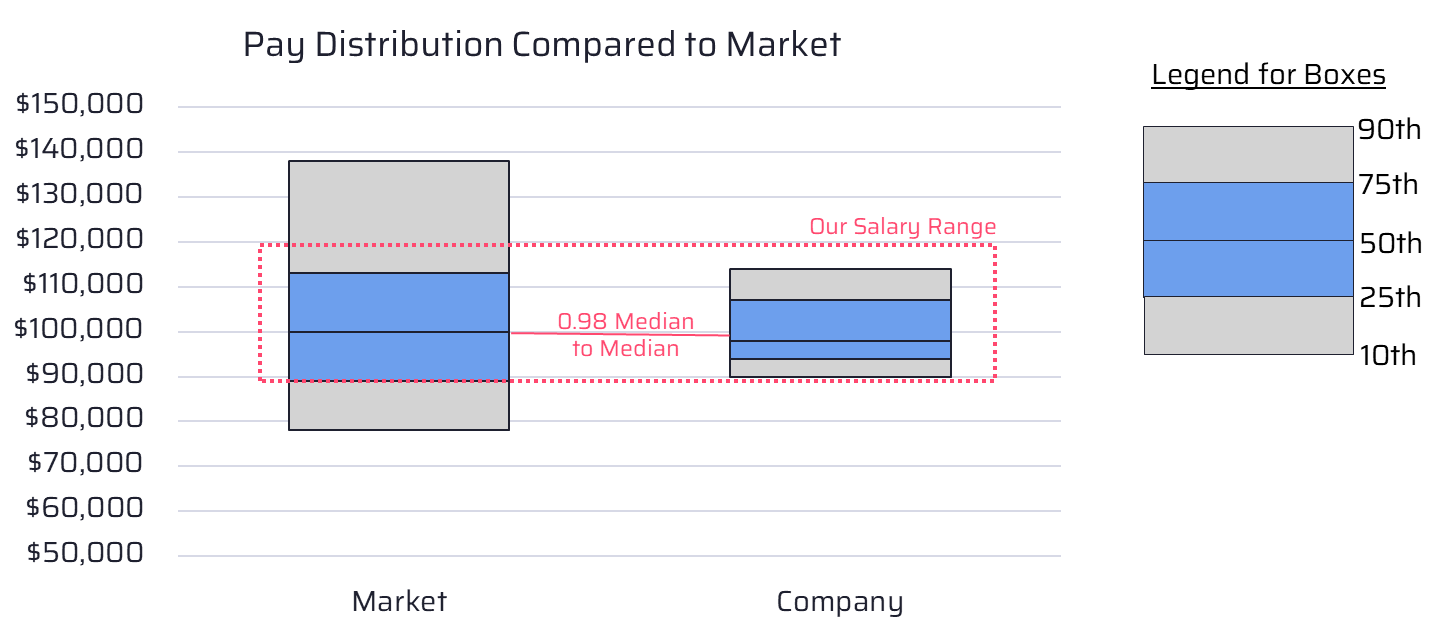 Change in Key Market Indices
In some organizations, it can be useful to show how certain market points have changed over time. Business leaders often hear about how the market is moving and changing, but are surprised by the relatively little movement that actually occurs for incumbents in the same market benchmark.
This can be done by plotting the same survey data over time, whether that's a single role or an aggregated basket of roles. Other tools, like Squirrel by CompTool, can show the change in posted salary ranges for a role over time, which can also illustrate how the market is changing.
Exhibit: Example Change in Market Over Time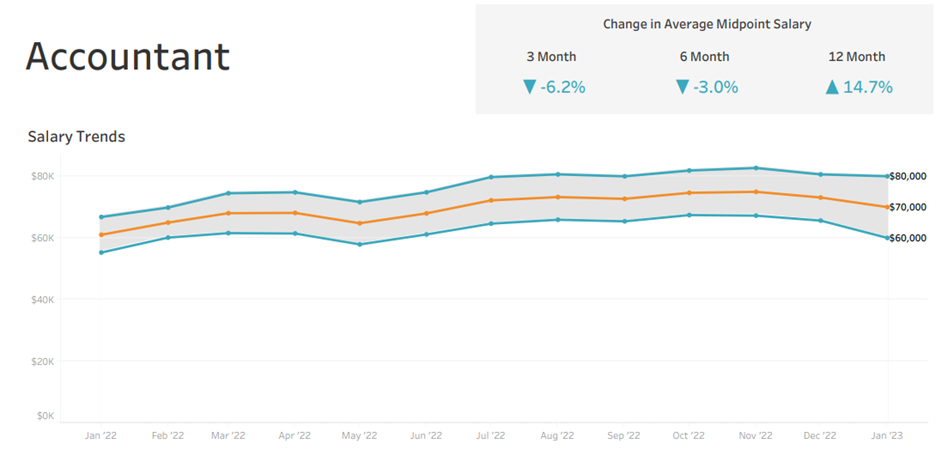 Comparable Employee Pay Progression (CEPP)
While leaders can often see the change in compensation costs for their organizations through their P&L, they are often surprised to see how that change in compensation is experienced by their employees. In many cases, employees who stay with a company over time experience compensation growth that exceeds leader expectations.
An annual salary increase process is only one source of employee compensation increases. Over the course of time, employees get in-role promotions, take on new roles, receive special adjustments, or benefit from other off-cycle increases. These often add up materially over time, and create a rate of pay progression that exceeds what the merit budget suggests.
Comparable Employee Pay Progression (CEPP) = The rate of compensation growth for a defined set of employees over time.
To calculate this metric, we need to isolate a set of employees who stay with the company over a given time horizon. The logic here is to take a same store sales view to see how your pay decisions affect people over that time horizon. We recommend 12 and 24-month views.
Identify employees who are with the company over the entire time horizon, and then calculate the sum of compensation for those employees at the beginning and end of the measurement period. The percent change from beginning to end is the CEPP.
More on this metric can be found in this related Insight.
Key Insights from Talent Attraction and Retention
The competitiveness metrics above are derived from the total population, but often additional insights can be gathered by reviewing recent joiners or recent leavers. Since competitiveness is really a measure of risk, looking at actual joiners/leavers adds some perspective on the likelihood of those risks materializing.
For both new hires and recent departures, we recommend calculating that cohort's comparatio (or position in range) and compare that to the comparatio (or PIR) for existing employees. Look for the following trends:
In addition to reviewing the market position of recent joiners and leavers, we also recommend utilizing candidate, onboarding, and exit surveys to better understand how prominent compensation is when talent makes a decision to join or leave your organization. We've created Novo Attract and Novo Retain to gather this data in a rigorous yet highly efficient manner.
Recent Retrospective
To the extent the Compensation function has driven change through a recent implementation or major process like the annual cycle, it's important to share the outcomes of that work and any lessons learned. This is particularly important after the annual cycle, given the business-facing resources consumed in making the cycle happen.
Review of Activity, Projects, and Priorities
This is your change to highlight the work you've done or are doing, ranging from the transactional work supporting the business to the program changes you are driving.
Oftentimes, more senior leaders are unaware of the number of ad-hoc compensation changes made in the organization, the number of new roles created, or the number of hires/offers reviewed and approved. The intent isn't to convince anyone the Compensation team is busy – it's to make sure everyone is aware that work is occurring and all can see any unusual changes in volume.
This is also an opportunity to share your initiative roadmap, which identifies the key strategic changes or program reviews your Compensation team is planning. It's often helpful to identify if/when the team may have capacity to take on a new research project – this helps to set the tone that prioritization of resources is needed without saying "no" outright to a new request.
Feedback
Most business stakeholders are not shy about giving feedback to the Compensation team, and feedback will typically come from the discussion surrounding other CBR agenda items. That said, including a specific place to solicit feedback – about the compensation program and about the compensation team – ensures that voices are heard and you have an opportunity to take appropriate actions.
How often should the CBR occur?
The frequency of the CBR depends in part on how often the content can be meaningful. We find that in most organizations, the data really doesn't change all that much on a monthly or even a quarterly basis, unless there are programs changing on that timeline. Smaller populations often require a longer time horizon as well.
In general, we recommend the CBR be thought of as either a quarterly, semi-annual, or annual review. Our experience is that once business leaders engage in an insightful CBR, they will ask for more engagement rather than less.
Is this a single CBR for the company?
Separate business reviews should occur where there is a meaningful unit of analysis. This commonly means larger business groups or job families can have a more focused discussion than simply being a cut in the overall company discussion.
For example, one organization (software; 3,000 employees in 12 countries; Comp team was Leader + 3) organized as follows: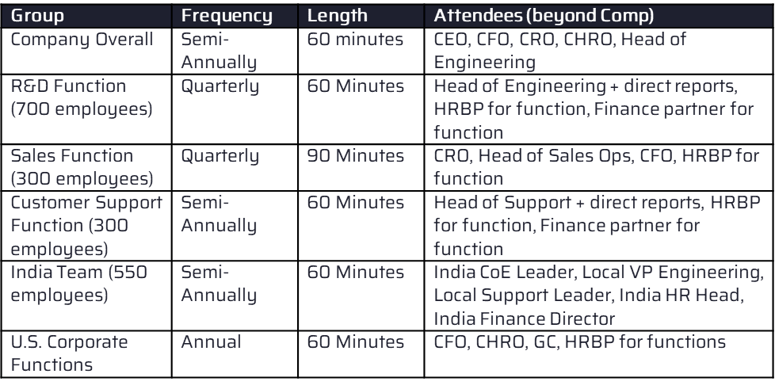 ---
---
This sounds like a lot – now what?
While this may seem daunting, beginning with a CBR for the overall organization is a great first step, even if the audience starts as just the Compensation team or the broader HR leadership team. This can crystalize your approach, and create new dialogue about the compensation strategy.
If this sounds like a challenging exercise, Novo Insights can make it easier. We can create the tools needed to make this review more efficient, and apply our deep expertise in compensation and data storytelling to power your CBR.